Enjoy your libations, cocktails, ice cold brews, refreshments, snacks and meals at one of Montana's most famous historic locations…
Since its opening in 1908, this real western bar has been serving cowboys, cowgirls, gentlemen farmers, ranchers and – well – any Montanan who likes great food, great service – and great drinks! The decor belies the bar's genuine western roots: steer heads, taxidermy, an ornate, intricate, original Italian tile floor, spacious, dark booths and solid cherry wood tables. The bar is considered one of THE best preserved historic bars in Montana.
The Montana shaped neon sign represents a century-old experience to those who enter The Montana Bar. A look into the right-front window shows the now extinct Audubon Big Horn Sheep. At the outside entrance lies the name of James Kenney in tile, who bought and moved his bar here in 1908. Beyond the entrance are partitions of glass, one of which bears a bullet hole caused by a gentleman whose gun went off accidentally, while checking at the door. Beyond that is the beautiful original tile floor, and to the right is the authentic stand-up bar, which came by steamboat in 1912. Bar stools have been added in these modern times. To the left and center hang the fans suspended from the original embossed tin ceilings. The men's room still has the original marble urinal, still in use today. A 1914 double-drawer National Cash Register sits on the back bar.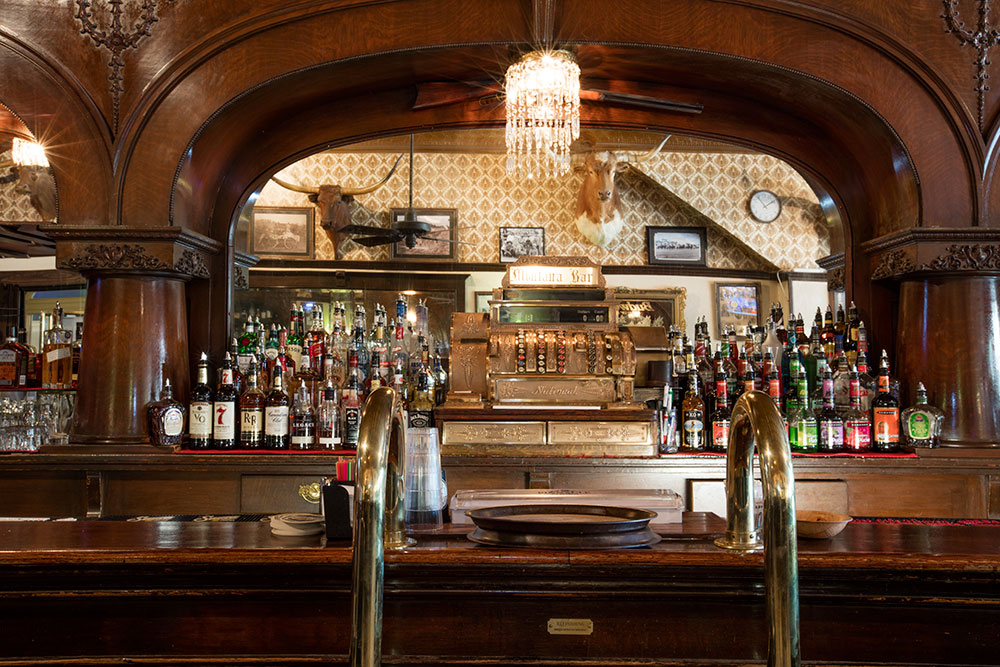 Visit us soon and enjoy a true old west atmosphere, surrounded in western art featuring Charlie Russell, Frederick Remington, and L.A. Huffman, at The Montana Bar. Allow our friendly staff to treat you to a great night in town, the Old West style.